Readymade Garments Trader in India
Being a Top Readymade Garments Trader in India Dekentmerchandise Supply Readymade Garments All Across the Globe
We are one of the largest readymade garments traders in India and deal in a wide spectrum of garments, and being a reputed readymade garments supplier. We use durable, Dynamic, High-Quality Materials and maintain their quality as well as a focus on the modern design, colors, prints, and customer requirements to make them feel happy and satisfied with their requirement. Being a Readymade Garments supplier in India, we deal in various garments segments, such as Men's wear, Women's wear, Corporate Uniform, lab Coat, Surgical Gown, Sweatshirt, School Uniform, and Girls' Knitted Panama, Jackets, and Boys Panama, etc. Our endeavour is to justify your fashion sense and requirement in all possible manner.
Largest Readymade Garments Supplier from India
Primarily top major garment exporting countries, including, India, Bangladesh, Vietnam, and China. Whereas, In India, Dekentmerchandise is the evolving and reputed Readymade garments exporter in India. Supplying all across the globe and fulfilling the entire internationally set quality standards that make our products highlighted among our competitors. These initiatives enable us to justify the customer's diverse product desires. Coupled with empowering us in spreading our business all over the world. Our mission is to integrate all product variants into our portals which would work as a one-stop solution. With the vision to bring you the fashionable & trendy yet comfortable wide spectrum of products to the pool of a population.
Readymade Garments Suppliers: Serving All the Industrial Sector's Demands for Readymade Garments Dekentmerchandise is a readymade garments trader in India, that caters to all types of industrial demand for readymade garments. Ranges from childrenís segments, men, women, and office workers to professional garment segments. Customer satisfaction is our top priority, which stimulates us to be dynamic with the fashion trends. This helps in accomplishing customer satisfaction in all the essential terms, including, fashion, design, and comfort. Providing our superior quality products at industry-leading prices. And delivering products to your doorsteps in a hassle-free manner. Dekentmerchandise is headquartered in Delhi-NCR and our second branch is located in Udaipur, Rajasthan.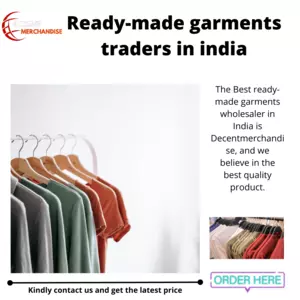 Related Product
Browse the huge variety of our products