Being a Leading Pulses Supplier in India- Bringing You the Finest Quality of Pulses!
Dekentmerchandise is a notable and prominent Pulses Supplier in India. A spectrum of pulses is sold on our platform, including, Toor Dal, Urad Dal, Rajma Beans Yellow Peas, Black Beans, Pinto Bean, etc. We offer premium quality pulses to our customers that are sourced from reliable vendors. We ensure to maintain all the product goodness and wholesomeness by offering an organic and unpolished pulse to your location. Our pulses don't go under the polishing process hence; the quality is being maintained and delivered directly in a fuss-free manner. Carrying all the vital nutrients, highly protein rich and fibrous.
Best Quality Pulse Suppliers Ready to Provide You Proteins and Nutritionís Rich Pulses!
Pulses are the best food product for gaining the required proteins and other nutritionís to your body even if are a vegetarian and cannot consume meat then pulses would be the best meal for your health nowadays, we found a lack of awareness among people about the benefits of Pulses, thus Food and Agriculture Organization of the United Nations celebrating world Pulse Day is annually on February 10th in recognition of the importance of Pulses as a best nutritional food throughout the world.
one of the Nutritional Sustainable and Environmental Friendly Foods are Pulses!
Being the largest supplier of pulses we (Dekentmerchandise) also celebrate the day and raise public awareness of the nutritional and environmental benefits of Pulses as part of sustainable food production. Pulses have a long history in human civilizations and have been an important food source food for humans, birds and animals for over ten thousand years. However, its importance was determined by the fact that, as a result of hunger, malnutrition, poverty and lack of food, the land became preoccupied with achieving a new goal - to feed the mass population with nutritious. It is indicative that about 14.76 million tons of Pulses were produced in India. With this achievement, India has established itself as one of the world's leading producers of legumes
Selling Nutritionally and Unadulterated Pulses Direct to Your Location!
As we know that pulses are the Indian staple food, and Dekentmerchandise as a Pulses Supplier in India especially known for selling organic and fresh pulses on our platform. This further helps in achieving and maintaining good health, as we are providing essentially nutritionally packed pulses. No adulteration and hygienically packed & ensures a long product shelf life. A wide network helps in convenient and fast product delivery which helps our customers in receiving their products in a time-efficient manner. Multiple payment methods and transparency allow you to a trustworthy payment.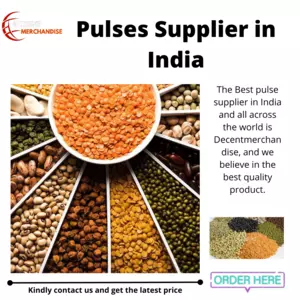 Related Product
Browse the huge variety of our products