Home Apparel Online
Grab all the Home Apparel Online with Varieties at the Best Deals
Dekentmerchandise is one of the best leading exporters of home apparel. We consist of a spectrum of home apparel categories which include, Bedsheets, Cushion covers, and blankets. excellent quality products made with the use of superior quality raw materials are being offered on our online marketplace. Wide product variants are available, categorized into different patterns, prints, colors, and sizes. Each product quality is checked by professionals before delivering it to our customers. We are notably gaining traction in the market owing to our customer's trust and confidence in our products.
Dekentmerchandise Delivers Qualitative Home Apparel All Across the Globe
Our efforts are to make your home the most alive and charming place. Hence, we entail a wide range of product varieties, working as a one-stop destination for the home apparel category. We encounter all the necessary product standards set differently by different countries and meeting all those parameters enable us to cater not only to domestic but international clients as well. On time product delivery, convenient design, and a customer-centric approach are being followed that ensure an easy online purchase by our customers.
We Deals in Home Apparel with Our Clients in a Hassle-free Manner
Dekentmerchandise operates from New Delhi, and supplies in pan India and all across the globe. Our mission is to add new innovative product variants to our online marketplace. And reach a large population base. High-quality fabric-based home apparel is designed which is smooth and soft and is delivered to our customers in a hassle-free manner. Our first priority is to provide the best quality genuine products to our clients.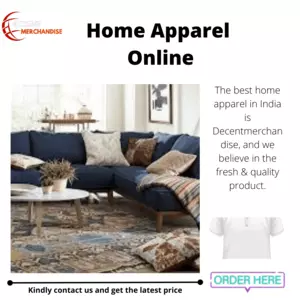 Related Product
Browse the huge variety of our products